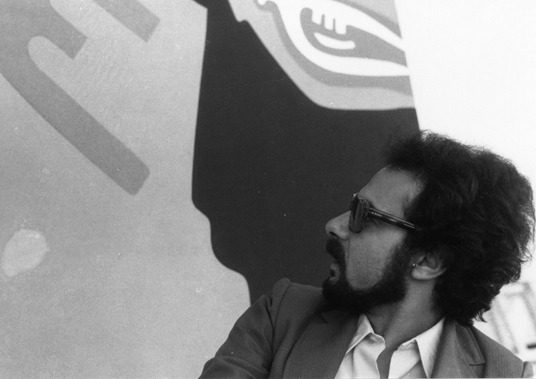 "Have I ever written with anything else than my life?"

Poet, novelist, playwright, and essayist, Abdellatif Laâbi is one of the most prolific and critically acclaimed of contemporary North African writers. He is also responsible for several translations from Arabic into French, especially poetry.
Born in Fez, Morocco, in 1942, he founded the magazine "Souffles" in 1966, which played a major role in sparking a literary and artistic renaissance throughout the Maghreb. In 1972, he was imprisoned, tortured and sentenced to ten years in prison for his political beliefs and his writings. Adopted as an Amnesty International prisoner of conscience, he was awarded the Prix de la Liberté, PEN Club, and the Prix International de Poésie by the Fondation des Arts, Rotterdam, while still in jail. In 1980, an international campaign in its favor resulted in its release from jail. Since 1985, he lives in Paris.
Prizes
French-Arabic Friendship's Prize, 1970
International Prize of Poetry, awarded by The National Foundation of Arts, Rotterdam, 1979
Freedom Prize, sponsored by the French Pen Club, 1980
Albert Droin Prize of the Société des gens de lettres de France, 1981
Fonlon Nichols Prize of the African Literature Association (USA), 1999
Poetry Prize Wallonie-Bruxelles, 1999
Mediterranean Africa Prize of the ADELF, 2002
Alain Bosquet Prize, for his collected work, 2006
Naïm Frashëri Prize, awarded by the International Festival of Poetry, Tetovo (Macedonia), 2008
Robert Ganzo Prize of Poetry, 2008
Goncourt Prize for Poetry, 2009
International Prize Benjamin-Fondane of French-speaking Literature, awarded by the Romanian Cultural Institute, Paris, 2011
Academie française's Grand Prix de la Francophonie, 2011
Lebanese Arab Club Prize, 2014
Writings and Spiritualities Prize, 2015
International Prize of Poetry "New Golden Age", awarded by the Poetry Festival of Mexico City, 2017
Mahmud Darwish Prize for Creation and Freedom, along with Noam Chomsky (USA) and Zakaria Mohammed (Palestine), 2020
Roger Kowalski Prize, Grand Prize of the City of Lyon, for the collection Presque riens, 2020
He was appointed Commander in the Order of Arts and Letters by Jack Lang, june 1985
and doctor honoris causa of the University of Rennes 2 (France), 2007